She made headlines when she set up her first social enterprise A-changin, a high-end clothes alteration business that employs and trains disadvantaged women in tailoring skills, six years ago. The company went on to win the President's Challenge Social Enterprise of the Year in 2012.
Josephine Ng, 47, is formulating her own recipe for success. She is part of an emerging new generation of social entrepreneurs who marry business acumen and a social conscience.
In her early 30s, she had already sold her first company, an integrated marketing agency, for a sum that allowed her and her husband to retire comfortably. But after going into a brief period of retirement where she dabbled in hobbies such as golf and traveling, she felt the urge to do something more meaningful with her life. In fact, she was close to signing up for a post-graduate course in social work when she came to learn about the concept of social enterprises after attending a talk at National University of Singapore's Asia Centre for Social Entrepreneurship and Philanthropy.
"Coming from a very regular background and being able to achieve what I did at that young age was a blessing," said Ng. "When we came to know of how a social enterprise could really benefit people while running a sustainable company, that started me thinking."
Foray into food and drinks
Now that A-changin is running like clockwork, she is looking to make an impact in the food and beverage industry with her latest baby, the New Rasa Singapura. Located at the Tanglin Post Office, the restaurant serves the best of Singaporean cuisine such as Hainanese chicken rice, laksa and fish head curry in a modern alfresco setting.
New Rasa seeks to create inclusive opportunities for people with disabilities and vulnerable groups. It employs a team of 15 staff including part-timers, of which five employees have special needs.
Better processes, not lower standards
What's her secret sauce to running an inclusive enterprise?
"We wanted to be even more inclusive to reach out to people with disabilities, mobility issues or those who need help with employment. The F&B industry allows us to be this inclusive, because we could carve out jobs for them to do," said Ng. She works with government agencies like SG Enable, which refers their clients with disabilities for employability.
At the restaurant, those on walking aids are still able to help cut vegetables at a station, while intellectually disabled colleagues learn simple service responsibilities taught by senior staff who break down tasks and reinforce it over and over again. "They can actually do a very good job," said Ng.
If running a business is hard, running a social enterprise is a whole new ball game altogether: the team has to strive to balance commercial viability and social meaning. And instead of being task- and results-oriented, which is how it is in the corporate world, managing a social enterprise is about getting people to work "hand in hand" to overcome the problems they face and reach a goal together.
"People like to help if it does not inconvenience them," she said. "Our society is moving towards being inclusive but there are those who will not forgive slipping standards."
Instead of assuming that customers should lower their standards, Ng thinks social enterprises should think of how to motivate and train the team to be better. "There are ways to carve out the job and with constant guidance and monitoring, we can get there," she said. "We can only hope that customers will work towards getting there with us as well."
The right mindset for social business
Whether she hires someone or not depends on whether the person is willing to give themselves a chance. "There are really a lot of jobs that they can do, as long as their attitude is good and they are willing to try and learn. That would be the key motivating factor for us to offer a job to them."
"When you have the wrong mindset that you are helping people, you are actually talking down to them and most people don't like that. You need to work with them to help them achieve their fullest potential.
"One of the lessons I learned when I started my first social enterprise is when you empower the person, you give the person dignity, and it really carries through in their job. If you build a very strong culture where people are willing to help each other and give their very best, not just for themselves but for one another, you can see that the company will grow."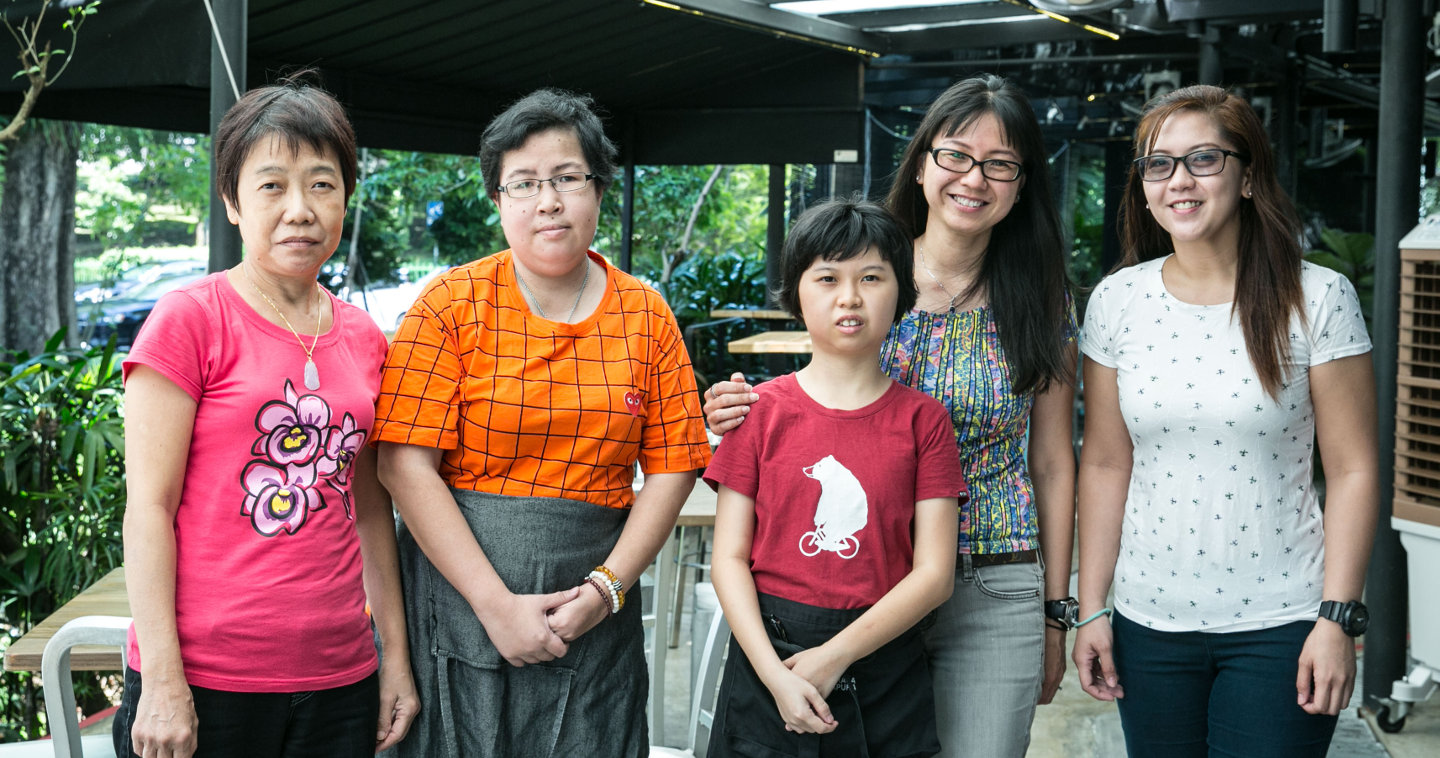 Josephine with the staff of New Rasa Singapura