The Bottled City, a library-on-wheels, made its way to Enabling Village for its final stop from 20 – 25 April 2021. When parked, the truck unfolded into an eye-catching orange-coloured installation, inviting visitors to "step right up" and explore, with guidance from staff.
Organised by The Arts House, the travelling installation was a part of Textures, an annual literary arts festival that celebrates Singapore literature (Sing Lit).
Said Lisa Lip, Programmer at The Arts House, "The Arts House was pleased to bring our travelling installation to Enabling Village to bring Sing Lit to new and under-served audiences. Enabling Village was a wonderful partner and we hope this is the start of more opportunities to work together!"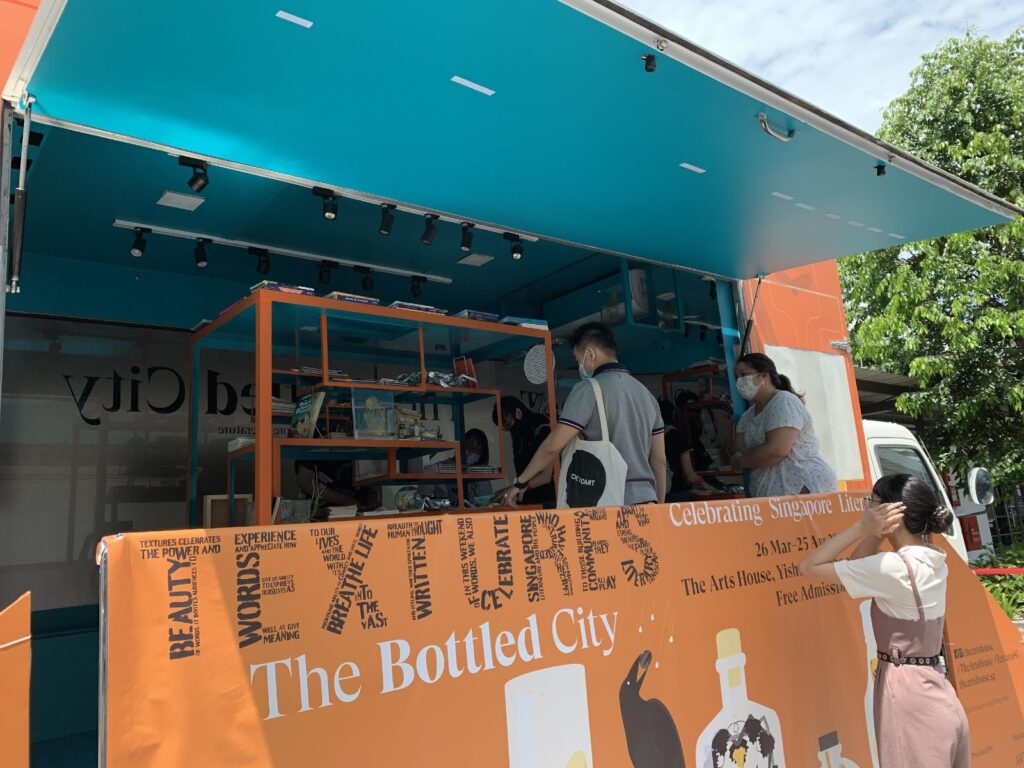 The brightly coloured "Bottled City" traveling library was hard to miss.
It was a treat for the eyes and food for the mind as there were not just a selection of local reads but also artwork displays which elevated the literary arts experience. Topping it off, fringe activities such as on-ground games and activities were held around the installation for added elements of fun for our visitors.

A collection of local reads was showcased for visitors to immerse themselves in.
Interesting artworks were on display at the installation to enrich the user experience
A sharing session by classically trained singer and pianist, Wilson Goh and Amanda Lee, who write poems, arrange and perform them as fresh jazz compositions, was a highlight throughout the six days.
In front of an audience which included participants from Very Special Arts Singapore and Metta Welfare Association, Wilson and Amanda shared the inspirations behind his work. They even performed a short musical demonstration!
Local musicians, Wilson and Amanda, shared about the inspirations behind their creative journey during a session at Enabling Village
"When Textures was launched this year, our mission was to translate local literature into different mediums like design, music, and technology so we could reach audiences from various communities of Singapore. "It was thus especially important to reach persons with disabilities who might not typically be exposed to Sing Lit, and we're so glad that Enabling Village gave us a platform to do so!" said Vanessa, The Arts House's marketing staff.
We're thrilled this event was hosted in Enabling Village to connect our community to local literary works. We look forward to more meaningful collaborations as this with our partners!