In a collaboration with Enabling Village to showcase inclusion and integration of the community, local manufacturing company Meiban Corporation licensed an artwork submitted by artists from Arts@Metta for "My Enabling Village" art competition to be printed on Lunar New Year Red Packets.
Working on the art piece together, the three artists, Donovan, Fadhil and Namira sought to bring forth their vision of a more vibrant disability community. They believe everyone has a part to play in the community and deserves to have access to equal opportunities to pursue their interests and dreams. Despite their conditions, they want to show to the world that they can contribute in their own ways.
The Enabling Village is a familiar place for the artists as they have participated in many events supported by SG Enable held at the village. They have many memories of having fun and eating at the shared spaces, especially at the outdoor amphitheatre.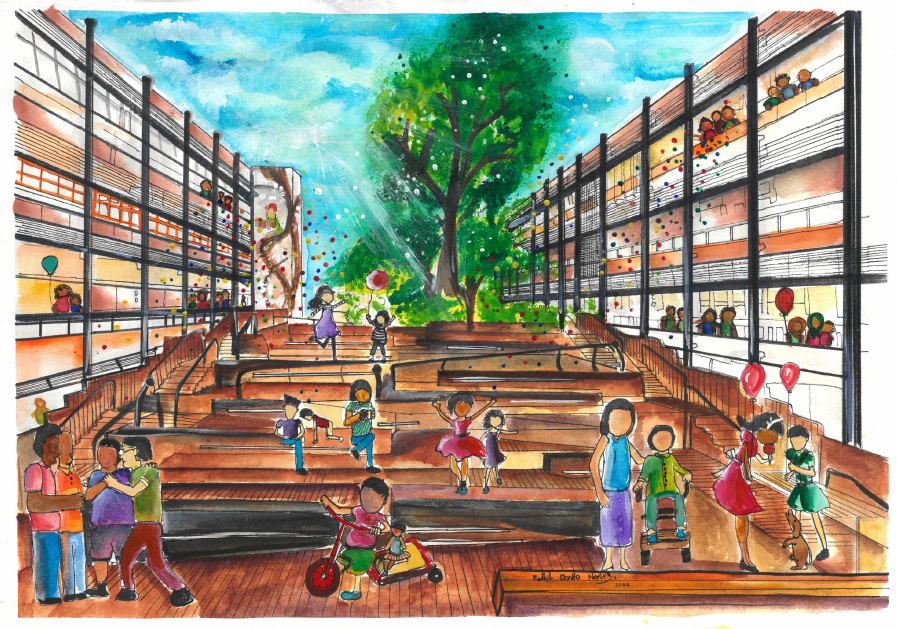 About the Artwork
The watercolour painting created by the three artists features Enabling Village as an inclusive community. It is a cheery space where persons with disabilities are enabled and can live with dignity, engage actively in various events, and contribute to society in their own ways. Through this artwork, the artists wish to promote greater awareness for the disability community and build a more inclusive Singapore.
About the Artists
Donovan Ho
Donovan is inspired by objects around him and often uses shapes in his artworks. He has a lovable personality and is ready to offer help in times of need. He constantly shows concern for his colleagues and greets everyone he sees. In his free time, Donovan loves to watch television programmes and engages in social media platforms.
Muhammad Fadhil Bin Abdul Jalil
Fadhil is a very patient and detailed artist. Diagnosed with autism spectrum disorder, Fadhil is a quiet observer and takes instructions carefully. He is passionate about manga and robots, and you can often find him sketching these characters during his free time. He also loves playing with his family's seven cats.
Namira Binte Ismail
Namira has been training and working at Arts@Metta, producing batik painting and pottery art pieces. Diagnosed with mild intellectual disability, Namira has a keen eye for patterns and it is reflected in her artwork. She is able to comprehend instructions well and is motivated to complete the work that are assigned to her.