We are delighted and honoured to be invited to co-organise and host the Fireside Chat at the Enabling Village with School of X, an initiative set up by DesignSingapore Council.
From Left to Right: Rama Gheerawo (Director of the Helen Hamlyn Centre for Design), Emily Ong (Director of Strategy & Innovation and Enabling Village Division), Tze Lee (Director of Stuck Design) and Tamsin Greulich-Smith (Director of School of X)
Tamsin Greulic-Smith from School of X kicked off the session by engaging participants to discuss what inclusive design means to them and they took turn to share their thoughts within each group.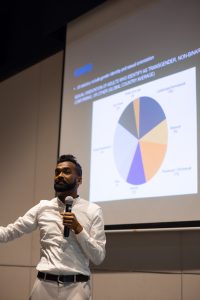 "Human first, Designer second" – Rama Gheerawo, Director of the Helen Hamlyn Centre for Design began by highlighting that design is centred around people. He defined inclusive design as including the needs of the widest number of people in your design. Just like designing a phone, it has to be useful for majority of people. Inclusion addresses the needs of the broadest community. He used design to address diversity through the four axes of design – age, ability, gender and race.
Rama further explained catalysing change can be external, but real change starts from within. Any inner change such as our values, abilities, perceptions can have an outer effect.
He introduced the three core values of Creative Leadership – Creativity, Empathy and Clarity and how important it is to have a balance of these three values. He explained if one only has empathy, they can be a pushover. If one only has clarity, they can be a dictator. If one only has creativity, it is like they are on a bicycle with no wheels, pedalling hard but going nowhere.
Tze Lee, Director of Stuck Design shared key learnings from the Design Playbook for Inclusive Design jointly developed by SG Enable and STUCK Design. This Playbook aims to equip businesses and designers by sharing principles for designing spaces and experiences inclusively, distilled from conversations with persons with disabilities and caregivers.
With this, he also shared the importance in including people in design in order to make them be seen, heard and felt; and reiterates that expertise is more in the hands of people than the designers.
The Design Playbook for Inclusive Spaces provides rich ideas from people with disabilities, on how to apply these principles in the areas of retail, food & beverage, wellness & community services, training spaces, and wayfinding. Access the Design Playbook for Inclusive Spaces here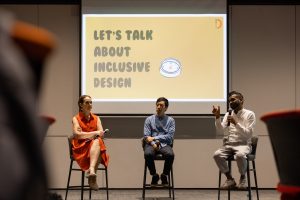 During the panel discussion, both panellists shared how businesses and designers can get started on practicing inclusive design.  
We wrapped up the session by taking the participants on a tour of the Enabling Village, where they learnt about physical accessibility and the various inclusive services available within the Enabling Village.
At Tech Able, participants were introduced to various assistive technologies and inclusively-designed products that enable persons with disabilities to live, learn, work and play independently.
Follow us on our socials to be in the know of our latest updates.