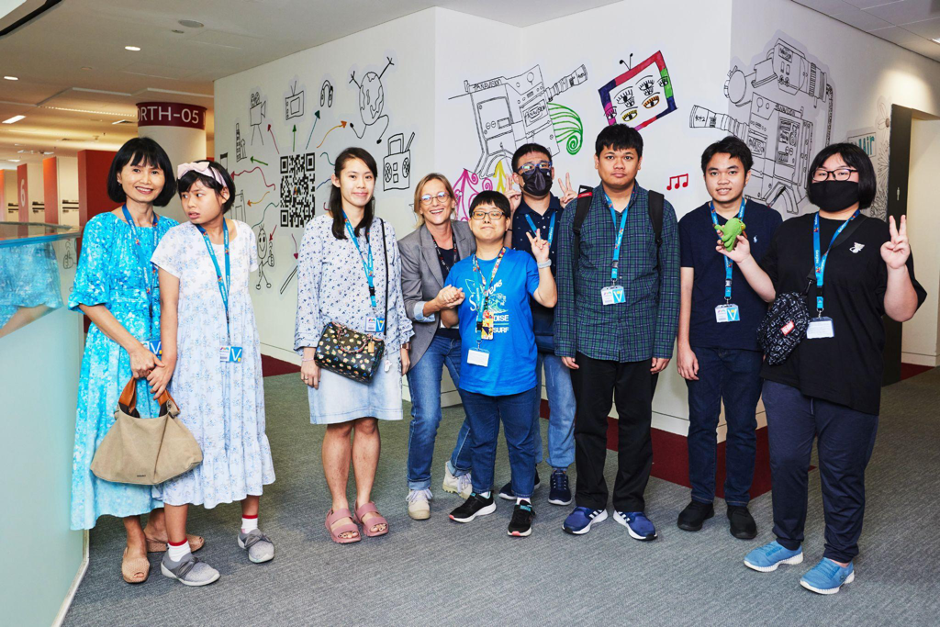 From left to right: Joycelyn (Genine's mother), Genine Tham (artist from Extra.Ordinary People), Jozie Keok (artist from Metta Welfare Association), Deborah Strafford (Senior Creative Director, Mediacorp), Ong Xin Min (artist from MINDS), Eng Yong Chuan (artist from MINDS), Muhammad Fadhil Bin Abdul Jalil (artist from Metta Welfare Association), Daniel Terence Lagman (artist from Rainbow Centre) and Jezebel Ng (artist from Rainbow Centre)
On the 10th floor of the Mediacorp Campus, you will notice bold and colourful wall stickers adorning the office walls and glass panels.
Unveiled on Tuesday, 15 March 2023, the walls and panels feature artworks that were co-created by six artists with disabilities from Metta Welfare Association, MINDS and Rainbow Centre together with twelve Mediacorp staff.
Dr Esther Joosa, Founder and Director of International Arts Education Consultancy from Arts of the Earth Learning Hub facilitated three workshops for Mediacorp staff and the artists. During each workshop, all participants were given specified themes such as faces, flora and buildings to experiment with different art techniques to co-create many art pieces.
These art pieces were then pieced together to create a narrative and produced into wall stickers and stuck on the walls and glass panels.
As part of Mediacorp's effort in championing abilities, this co-creation project aims to celebrate the inspiration, innovation and creativity that Mediacorp shares with the world.
Through this project, it aims to prompt us to remember that a blank canvas can be filled with magnificent art through collaboration, in an environment where every contributor is recognised for their unique and diverse abilities.
Meet the Artists and their Work
Fadhil proudly standing next to his artwork featuring the Mediacorp Campus with his mother, and Dr Esther. Diagnosed with autism spectrum disorder, Fadhil is a very patient and detailed artist. Fadhil's artwork was featured in NDP 2020. You can read about it here.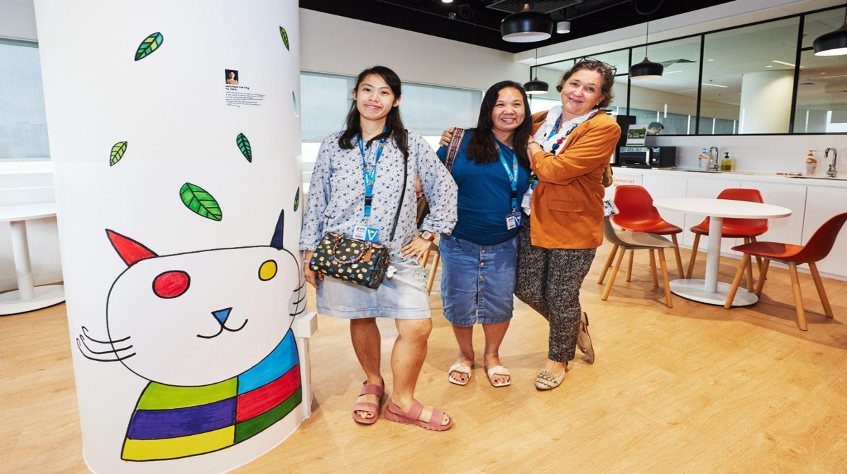 Jozie's use of bright and bold colours in her artwork greatly reflects her positive and affable personality. She is cheery and helpful, and wishes to be a model one day. Her mom is so proud of her work. Jozie participated in creating artworks with her fellow artists from Arts@Metta as seen in the i'mable NDP 2022 collaboration. You can read more about it here.
Jezebel from Rainbow Centre with her mother and sister. She is a member of the Visual Arts CCA in Rainbow Centre Yishun Park School, Jezebel loves creating art, and has a keen eye for detail. She tends to use bold and vibrant colours to tell stories through her artwork.
Daniel from Rainbow Centre Singapore is helpful and determined. During his free time, he loves helping his mother with housework, and is passionate about running to keep his fitness in track. Together with Jezebel, he has participated in creating artworks for NDP2022.
You can read about it here.
Yong Chuan from MINDS is a spirited talent who enjoys arts and craft. He is proud of his work and was excited to strike a pose for the camera during the reveal. He is accompanied by his family members. You can read about Yong Chuan's artwork which was featured in NDP 2022 here.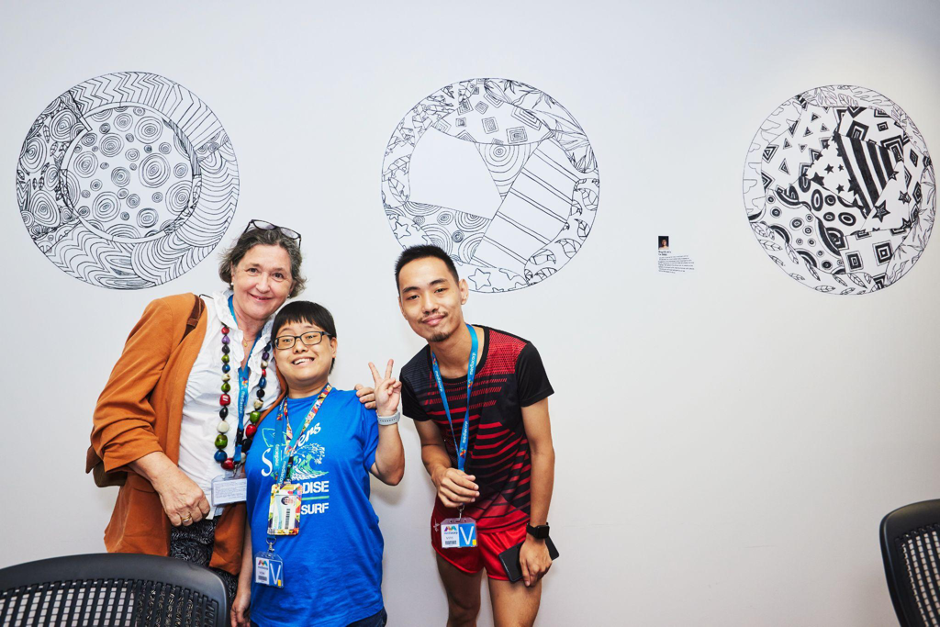 Ong Xin Min attended the reveal with her brother, who plays an active role in supporting Xin Min's interests. Xin Min's eye for detail is strongly evident in her intricate artworks consisting of linework and complex shapes. You can read about Xin Min's artwork in NDP 2022 here.
Genine Tan's Captivating Painting located at Forward Coffee Roasters
Genine Tham is a beneficiary of Extra•Ordinary People's Creative Lab Programme. Through her art, Genine creates glimpses of her inner world, motivated solely by self-discovery, inquisitiveness, and play. Amidst her artistic process, she is expressive, gentle and explorative. Each of Genine's paintings projects new awareness emerging from her artistic process and her use of her hands and feet in creating panoramic landscapes that engage the viewer in their complex textures and details.
We are delighted to introduce her remarkable painting, BOLD at Foreword Coffee Roasters located at Level 3 in Mediacorp Campus, creating a livelier space for patrons who visit.
This collaboration with Mediacorp was made possible by i'mable Collective, an initiative by SG Enable which creates opportunities and energises communities to bring about social impact.