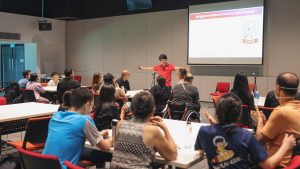 Dr Teo-Koh Sock Miang shared about the history of para sports
The Hall @ UOB Ability Hub buzzed with excitement on Saturday, 20 May, as we welcomed our Para Athletes for Sports Inclusion: Introduction & Try-Outs, a part of Singapore HeritageFest 2023. Co-organised by the Singapore Disability Sports Council (SDSC), Singapore National Paralympic Council and supported by ActiveSG and Enabling Village, the event began with a history of our local para sports scene by Dr Teo-Koh Sock Miang, president of SDSC. Attendees listened to the record-breaking triumphs of our Para Athletes, before hearing from our athletes themselves. Moderated by Paralympic swimmer Theresa Goh, the panel gave everyone a glimpse into their sporting journeys.
From left to right: Theresa Goh, Yip Pin Xiu, Jovin Tan, Steve Tee, and Jason Leong.
Yip Pin Xiu shared about her sporting journey
Paralympic gold medalist Yip Pin Xiu had always been an avid swimmer, but it wasn't until she saw Theresa Goh in the newspapers that she realised there were actually competitive sports for persons with disabilities. She joined the national swimming team with the support of SDSC. "I've been swimming competitively for 19 years, and I'd like to think I'm still going strong," she said.
Jovin Tan shared what got him in sailing
Paralympic sailor Jovin Tan first joined sailing to escape from his bad-tempered father who couldn't accept his disability. Despite being one of the more severely disabled athletes on the team, Jovin found solace in sailing. "In the water, I feel freedom," he shared, "I don't have to rely on my wheelchair, and I have full control of the boat."
For the athletes, para sports have helped them build their confidence to become the best version of themselves. "We all have different levels of disabilities, some of us are born with it while some of us acquired it later on in life," Theresa said.
Steve Tee shared what got him back into sports after losing his sight
In fact, Steve Tee had been an active table tennis and football player before losing his sight. "After I was diagnosed, I never thought I would go into sports again," he said. However, when SDSC was looking for visually impaired players to join their football team, curiosity propelled him into pursuing sports as a blind person. Later, he tried cycling and represented Singapore at the Tokyo 2020 Paralympic Games in tandem cycling.
Jason Leong shared his story and his work with Para Sport Academy
Like Steve, Jason Leong also played floorball for 20 years before he became a double below-knee amputee. "Where do I go from here? How do I be the husband and father I am supposed to be?" Motivated by a desire to become fitter and self-reliant, he got back into sports and is now part of ActiveSG's Para Sport Academy, an affordable platform for persons with disabilities to try out a range of para sports.
Attendees asking questions during Q&A
One question stood out during the panel – how can we bring more people into para-sports? It came down to three things: open communication, greater outreach and increasing the visibility of para-sports to foster an inclusive sporting culture. "When visibility is low, the idea of possibility is low. That idea of possibility really encourages people to dream bigger than the situations they are in," said Jason.
Sharing their wishes for para sports in Singapore, they called for more people to participate regardless of ability, for Para Athletes to be recognised at the same level as able-bodied athletes, and for continued awareness and support.
What's next for inclusive sports in Singapore? Well, we can all play a part! Our community has done a great job in putting para sports out there, and we should continue to do so. As Theresa puts it, "Everyone here is a wish maker."