Group photo of the tour guides with visitors and SG Enable staff
"You can show the world your plight, or you can show the world your might." This was one of the parting statements made by tour guide Warren Sheldon Humphries, which perfectly sums up what our refreshed tour programme aims to achieve.
After six months of hiatus, Enabling Village has reopened our much-anticipated tours. Our new tour serves as an extension of our dedication to enabling and empowering persons with disabilities, or, as one of our tour guides aptly puts it, persons with determination. Together with TRIBE Tours, we have created an experience that welcomes people to learn about the village while amplifying the voices of persons with disabilities.
Our new tour is now led by Jackie Chionh, Joanne Toh and Warren Sheldon Humphries, who are persons with disabilities themselves. Warm, cheerful, and compassionate, their knack for storytelling truly brought the village to life while also shedding light on our various initiatives.
Group photo of tour guides Joanne Toh, Jackie Chionh and Warren Sheldon Humphries
An Accessible Space
Jackie, Joanne and Sheldon introduced the group to a range of inclusive features that Enabling Village has put in place to meet the unique needs of persons with disabilities. "At Enabling Village, it is not just about inclusivity but also the accessibility and affordability of it," Sheldon explains. After all, it is not just about physical accessibility but also about making other aspects like education, employment, training and well-being more accessible.
Tour guide Joanne explains how the lush natural environment at Enabling Village can help all visitors relax physically and emotionally
The 1.5 hour tour saw visitors learning about how each of the areas in the village catered to different needs that persons with disabilities may require, from physical needs to assistive technology and employment opportunities. The tour showcases how Enabling Village as a whole is a seed community for persons with disabilities.
Our mission to be the mediator and catalyst for persons with disabilities doesn't stop at providing physical spaces, it also extends to the development of networks and pocket communities that support persons with disabilities.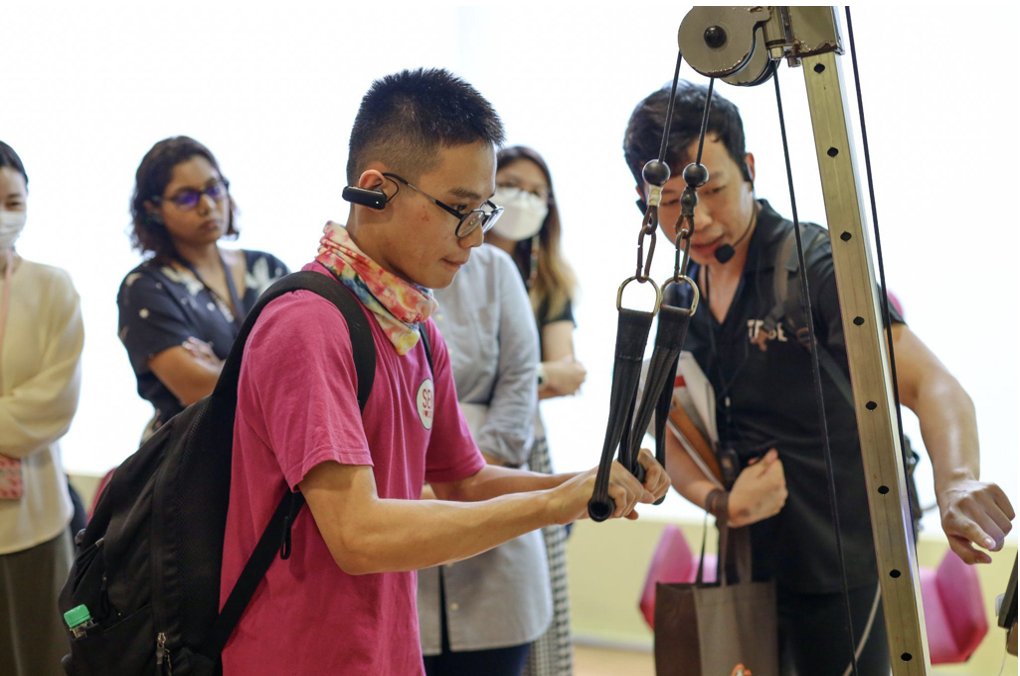 A tour participant trying out equipment at the ActiveSG gym at Enabling Village as tour guide Jackie explains how it works
A Supportive Community
The tour guides have personally experienced the impact of this network and have shared their stories about how Enabling Village transformed their lives. Sheldon emphasized that Enabling Village goes beyond just being inclusive; it also focuses on accessibility and affordability.
The tour highlights the role of relationships in shaping a more inclusive society. The tour offers a secure environment for asking questions and correcting misunderstandings, enabling everyone to leave with an improved comprehension of how to effectively support and incorporate individuals with disabilities into our broader community.
Tour guide Sheldon speaking to participants during the tour
For more information on the tour, contact Tribe Tours at bookings@tribe-tours.com