Come say hi.
The Enabling Village is located at Lengkok Bahru, a small neighbourhood in Redhill, Singapore. Many senior residents call this area home, but newer housing developments have seen young families move into the neighbourhood as well. The lively community and the combination of old and new spaces give Lengkok Bahru a unique character.
The buildings of the Enabling Village have a long history in education and training, having formerly been the Bukit Merah Vocational Institute and the Employment and Employability Institute. The site has been extensively retrofitted for easy access by visitors who have disabilities.
Access & Directions
The easiest way to reach here is by MRT to Redhill Station, which is just 5 minutes' walk from here. Our pedestrian entrances are along Lengkok Bahru and Redhill Road. If you're driving, our entrance is along Lengkok Bahru Road. All entrances are accessible by wheelchair.
We have wheelchair-friendly parking lots at key parking areas.
Parking
Parking is available at the Enabling Village.
Car
$0.60 per 30 minutes
Motorcycle
$0.65 per entry
A grace period of 15 minutes is given to vehicles entering Enabling village. All rates inclusive of GST.
E-Receipt
As part of our efforts to Go Green at Enabling Village, you may now download your parking e-receipts online here. Please contact Metro Parking at 62500046 for assistance.
Complimentary Shuttle Bus Service
Complimentary shuttle bus services are available from Mondays to Fridays, between Enabling Village (Nest Block) and Redhill MRT (Exit A). All timings are indicative. Priority will be given to visitors with impaired mobility.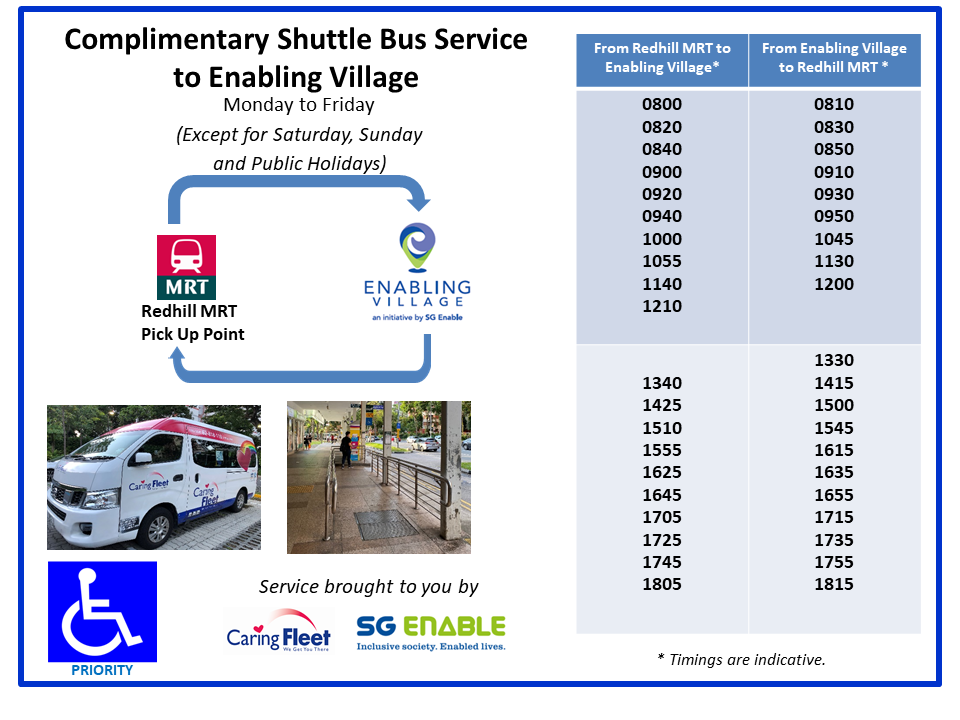 Map of Enabling Village
Village Address
20 Lengkok Bahru
Singapore 159053
Opening Hours
Monday to Friday
7:00 am to 10:30 pm
Saturday, Sunday
Public holidays
7:00 am to 9:00 pm
Contact Info
SG Enable Infoline
1800 8585 885
(Operating hours: 9.00am-5.30pm on weekdays, closed on weekends and public holidays)
Email: hello@ev.sg