What does happiness mean to you?
For Jun Le, happiness is as simple as waking up to a set of toast and a cup of hot milo every morning, or taking a ride on the MRT, which is enough to keep him joyful for the entire day.
Diagnosed with autism at the age of three, he has never been well-versed in expressing himself verbally, yet he practises writing daily by transcribing "The Heart Sutra". This practice led to an unexpected creation of a simple and unique Chinese calligraphic font which is named "Junle Font".
Jun Le's calligraphy strokes are unconventional and lively, exuding a naïve charm. His writing is a reminder to us to appreciate the beauty of the world around us, even in its imperfection, and to find joy in the simple pleasures of life.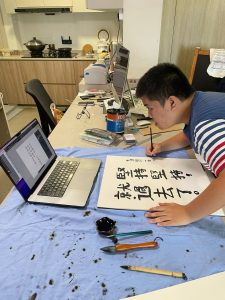 His works will be on display at The Art Faculty @ Enabling Village from 5 August. Do come by to show your support!
Date: 5th August – 2nd September
Time: 10am – 6pm (closed on Sundays)
Venue: The Art Faculty, Enabling Village